Why Kolhapur
Why Kolhapur?
Kolhapur is one of the most prosperous and fastest growing cities in Maharashtra. Situated in the southwestern part of the state, it was a 19-gun-salute princely state ruled by the Bhosale Chhatrapatis of the Maratha Empire. In a survey conducted in 2011-12, data showed that the per capita yearly income here is Rs.1,01,044, which is an increase of Rs.17,000 over the previous year. This places it among the cities with the highest per capita income in the country and the fifth highest in Maharashtra. Kolhapur has the distinction of being the fourth city in Maharashtra, after Pune, Mumbai, and Nashik where construction of high-rise buildings above 35 meters are permitted.
Kolhapur is fondly known as 'dakshin (south) kashi', 'door of konkan', 'historical capital of Maharashtra state', 'city of arts' and 'city of wrestlers'. Located on the banks of the river Panchganga, It is also famous as the 'city of palaces and temples' with the revered Temple of Mahalakshmi also present here.
Location
Located in south-west Maharashtra, Kolhapur's climate is the mix of coastal and inland climate of Maharashtra. The temperature here ranges between 10°C to 35°C, with an average of 33°C to 35°C. During winter however, the temperature comes down to a pleasant 24°C to 26°C, thanks to its high elevation and close proximity to the Western Ghats.
At an altitude of 1867 ft, Kolhapur is 228 km south of Pune, 530 km west of Hyderabad, and 615 km north-west of Bangalore. A recent announcement by railway ministry of a new railway line between Kolhapur and Vaibhavwadi is set to to give further impetus to the economic activity between Kolhapur and the Konkan region.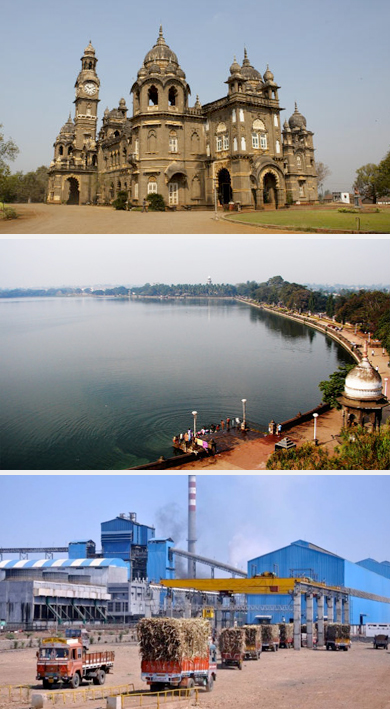 Economy
Kolhapur has been rated as the tenth "City of Choice" by Deutsche Bank. It is also the sixth most industrialized city in Maharashtra and has various industries in its fold such as textile, sugar, automobile ancillaries, forging, dairy farming and chemical industries. Sugar, leather industries and dairy farming form a major chunk of the Industries in Kolhapur. Gokul Milk Co-operative, which is one of the biggest dairies in India, is located in Kolhapur.
Industrial estates are spread all over Kolhapur, some noteworthy mentions are Shiroli MIDC, Parvati industrial estate, Kagal-hatkanagale five-star Maharashtra Industrial Development Corporation (MIDC), Gokul-Shirgaon MIDC, Halkarni MIDC, Laxmi industrial estate, L.K. Akiwate industrial estate, and Udyamnagar co-op industrial estate. Even more are in the pipeline namely Sambhapur industrial estate, Vikaswadi MIDC, and Ambap MIDC.
Kolhapur has a rich legacy, culture and tradition which make it a sought after tourist destination. It attracts approximately three million tourists every year, who come to sample its palaces, temples, food and globally renowned Kolhapuri chappals.
The city is also the primary center for the Marathi film industry. Its seed was planted by the Maharashtra Film Company, established by Baburao Painter in the year 1929.